If you are looking to purchase a printer for your home or business, May and June is always one of the best times to buy. The reason is all the main manufacturers are offering the best deal for the End of Financial Year sales.
You will find that many of the manufacturers offer small discounts with a very attractive Cash Back redeemable by claiming back off the manufacturers and there can be some significant saving for the buyers Most Companies have made the how to claim procedure reasonably simple and a lot faster than in the years gone by with Brother Australia leading the way with a 7 Day turn around once claim has been submitted.
The downside to the cash backs is that "MANY" buyers forget or can't be bothered to send the claim in or leave it past the dead line (usually they will allow 2 weeks to a Month after a promotion has finished to put the claim in). This means that even though you are usually making the purchase because of the cashback the companies have saved money because you haven't placed the claim.compared to previous years of having the discount price given to the re-sellers to pass on.
Current promotions include the Brother Cash Backs on their inkjet and laser printers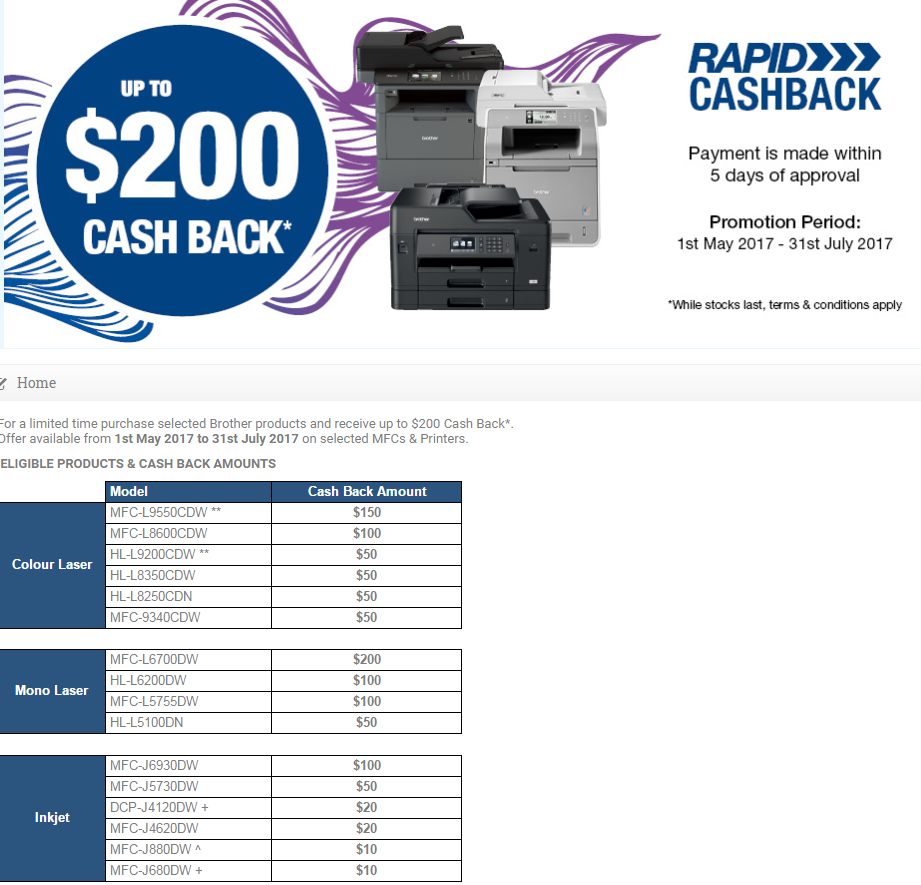 Also you will find Kyocera, Oki, Epson and the new Canon end of financial year promotions. Canons new cash back is slightly different giving you the option to keep it or donate it to one its selected charities like the Cancer Council, the Starlight Foundation or the Australian Red Cross. For more information you can check out The Canon Website www.canon.com.au
All the cash backs are available at Hunter Office Supplies plus extra discounts on many of the ranges.
Qualified printer service and repair technicians are on sight to give you the best advice and service.